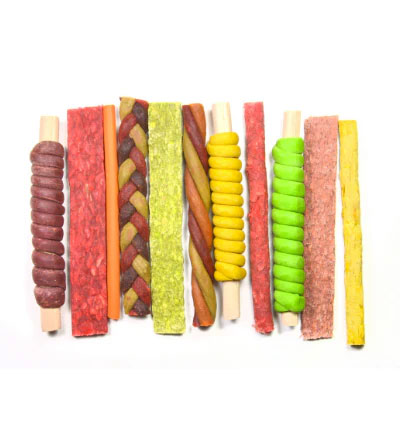 Welcome to Pets Lounge: Your Source for Premium Dog Treats
We believe that every dog deserves a treat that not only tastes delicious but also provides optimal nutrition. That's why we offer a diverse range of dog treats that are specially crafted to meet the unique needs and preferences of your canine companion. Whether you're looking for a training reward, a dental chew, or a special indulgence, we have the perfect options to keep your furry friend tail-waggingly happy.
Health and Nutrition
We understand the importance of providing your furry friend with treats that contribute to their health and vitality. That's why our dog treats are carefully selected to offer nutritional benefits while still being irresistibly tasty. Whether you're looking for grain-free options, treats with added vitamins and minerals, or treats formulated for specific health conditions, we have you covered.
Training and Positive Reinforcement
Training your dog can be a joyful and rewarding experience, and our dog treats can help make it even more effective. Our training treats are specially designed to be small, flavorful, and easy to handle, making them perfect for positive reinforcement during training sessions. With our delicious treats as motivation, your dog will be eager to learn new commands and behaviors.
Variety and Flavors
Just like humans, dogs appreciate a variety of flavors in their treats. Our collection offers a wide range of tastes to suit every palate. From savory meats like chicken and beef to natural flavors like peanut butter and sweet potato, you'll find an assortment of options to satisfy even the pickiest eaters. Discover new flavors and find your dog's favorites among our diverse selection.
Dental Health
Maintaining good dental hygiene is crucial for your dog's overall health. Chewing on dental treats can help reduce tartar and plaque buildup, freshen breath, and promote healthy gums. We offer a selection of dental chews and sticks that not only provide a satisfying chewing experience but also contribute to your dog's oral hygiene.
Quality and Safety
At Pets Lounge UAE, we put the well-being of your furry pets first. That's why we source our dog treats from trusted brands that meet the highest quality and safety standards. You can have peace of mind knowing that the treats you purchase from us are made with premium ingredients and undergo rigorous testing to ensure they are safe for your beloved pets.
Shop Dog Treats with Confidence
Browse our extensive collection of dog treats and give your furry friend the delicious rewards they deserve. Whether you're looking for training treats, dental chews, or simply a tasty snack, Pets Lounge UAE has the perfect options for your dog. Shop with confidence, knowing that you're providing your pet with treats that are not only flavorful but also promote their well-being.
Why Choose Pets Lounge UAE?
As the leading online pet store in Dubai, we offer a wide range of premium supplies, accessories, and high-quality pet food. Trust us to cater to all your pet's needs and provide the finest solutions for raising happy and healthy furry companions.