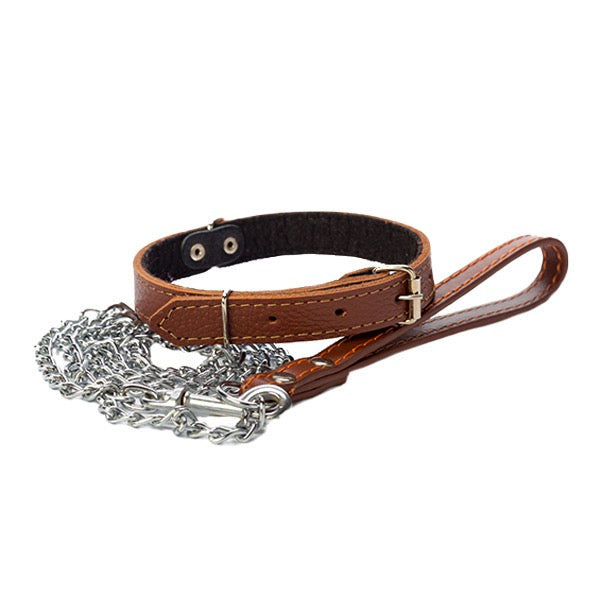 Welcome to Pets Lounge Dog Leashes and Collars Collection



Discover a Range of Dog Leashes
At Pets Lounge UAE, we understand the importance of a reliable and stylish dog leash. That's why we have curated a diverse collection of dog leashes and collars that prioritize both functionality and fashion. Whether you're looking for a leash for everyday walks, training sessions, or outdoor adventures, our selection offers something for every dog and owner.
Variety of Styles and Designs
We believe that dog accessories should reflect the unique personality of your canine companion. Our dog leash collection features a variety of styles, including classic, modern, vibrant, and chic designs. From bold patterns to solid colors, you can find a leash that matches your dog's individuality and showcases its style.
Premium Quality Materials: Durability and Comfort
Our dog leashes are crafted from high-quality materials to ensure durability and comfort. Whether it's sturdy nylon, soft leather, or robust rope, each leash is designed to withstand regular use and provide a secure grip. We prioritize your dog's comfort, as well as your own, so you can enjoy your walks together without compromise.
Different Lengths and Widths: Tailor-Made for Your Dog's Needs
Every dog is unique, and their leash requirements may vary. That's why our collection offers different lengths and widths to cater to dogs of all sizes and breeds. Whether you have a small, medium, or large dog, you can find a leash that provides the appropriate balance of freedom and control during your outings.
Specialized Features for Enhanced Safety
Safety is paramount when it comes to walking your dog, which is why our leash collection includes various features designed to enhance security and control. From reflective strips for better visibility during nighttime walks to padded handles for added comfort, our leashes prioritize the well-being of both you and your furry friend.
Training Leashes for Obedience and Control
If you're training your dog or need extra control during walks, our collection also includes specialized training leashes. These leashes offer additional length, adjustability, or hands-free options to assist you in teaching your dog obedience and reinforcing positive behaviors.
Collars and Leash Sets: A Perfect Match
Complete your dog's stylish ensemble with our leash and collar sets. These perfectly coordinated accessories offer a cohesive and fashionable look while ensuring the comfort and security of your four-legged companion. With a variety of colors, patterns, and materials to choose from, you can find a set that matches your dog's unique style.
Shop with Confidence at Pets Lounge UAE
At Pets Lounge UAE, we prioritize your dog's comfort, safety, and style. Our dog leash collection is carefully selected to meet the highest standards of quality and functionality. We understand that choosing the right leash is crucial for enjoyable walks and outings with your dog. Our knowledgeable and friendly team is here to assist you in finding the perfect leash that meets your specific needs.
Explore Our Dog Leashes and Collars Collection
Browse our collection of dog leashes and collars today to find the perfect accessory for your beloved canine companion. Enjoy the convenience, style, and durability of our products as you embark on exciting walks, training sessions, and outdoor adventures together. Unleash the joy of walking with your dog with our carefully curated selection at Pets Lounge UAE.
Why Choose Pets Lounge UAE?
As the leading online pet store in Dubai, we offer a wide range of premium supplies, accessories, and high-quality pet food. Trust us to cater to all your pet's needs and provide the finest solutions for raising happy and healthy furry companions.